September 10th - Swing Street Play the Music of Bacharach and Gershwin
Thursday September 10th marks the opening night of the tenth anniversary year for Georgia Straight Jazz Society. Live jazz will be featured on the stage at Avalanche Bar and Grill on Eighth Street every Thursday at 7:30 pm until the end of May. So please mark your calendar, and remember you're always welcome to come down and meet the friendly community of jazz aficionados and share the greatest jazz scene on Vancouver Island. We are excited to start the year with a super show and super line-up when Street Life performs an evening of music by Burt Bacharach, and George and Ira Gershwin.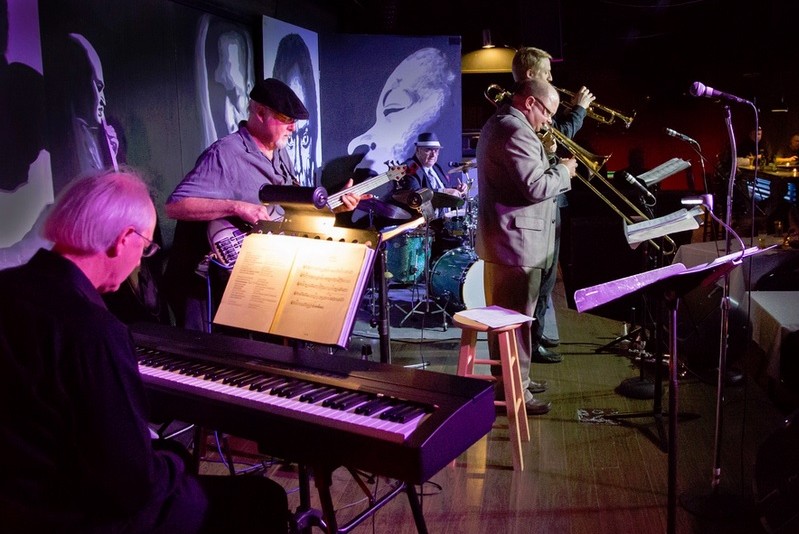 The band is Bill Street, drums; Don MacKay, Bass; Mike Eddy, Piano; Jacki Zbirun, vocals; Ronda Kuehl backup vocals; Jay Havelaar, Trumpet, and Jeff Agopsowicz, Trombone. There will be some jazzy treatments of the Bacharach tunes as well as some fun renditions of familiar Gershwin tunes. For the Bacharach tunes, Ronda will be using a toy called a harmonizer. Through the harmonizer, Ronda will be emulating the Dion Warwick backup trio - no easy feat. Jacki will be featured in some beautiful Gershwin ballads and will bring her dynamic musical prowess to the whole evening.
The evening will include a sombre interlude. Over the summer, one of the finest musicians and loveliest human beings you could wish to meet, died in a tragic traffic accident. Colin Campbell, trumpeter, singer, guitarist and outstanding Victoria high school music teacher (retired) will be posthumously honoured during the evening. In addition to the planned music program, the band will be featuring a few of Colin's favourite tunes and an audio/visual presentation featuring Colin will be shown at the end of the first set. We will be hosting members of Colin's family, and making a short statement about his contribution to our local jazz scene, and the impact of his loss to the music community.
On a happier note the society is planning some special concert events throughout the season, as part of the tenth anniversary, so stay tuned to the press releases and the current information posted on this web site and on Facebook. Comox Valley has become the noted hotbed in BCs jazz community, and if you love the jazz genre, consider becoming a regular member of this friendly group. A great way to make friends, a wonderful rendezvous to meet friends, good food, a special place to bring visitors and, more than anything, the best place to experience live jazz on Vancouver Island. Admission is just $10 for members, $12 for non-members.
For more information about the jazz society, please visit our website at georgiastraightjazz.com or follow us on Facebook.