October 8th - DMN&FRNZ
For three years DMN & FRNZ have been rehearsing and performing for ecstatic crowds, including the GSJS Avalanche Jazz Bar in Courtenay, The Coachman in Campbell River, and most recently at The Filberg Festival.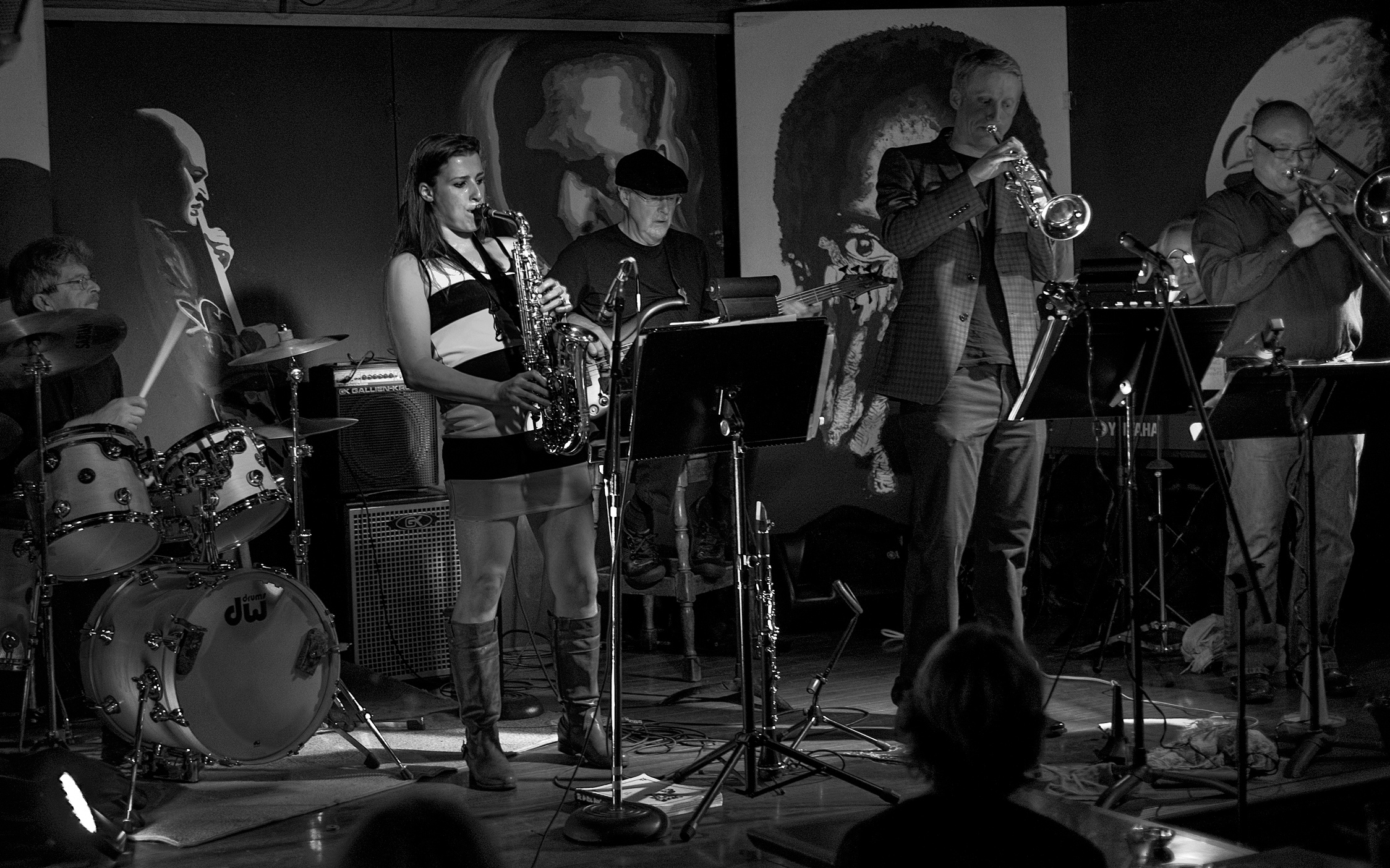 DMN are Don MacKay on 5 string fretted and fretless basses, Mike Eddy on piano, and Neil Clark on drums. These three well known Comox Valley musicians have been rehearsing an exciting program that recognizes the incredible talent of composers such as Chick Corea, McCoy Tyner, Wayne Shorter, and Bill Evans among others.
DMN's renditions of standards and not so standards will be enhanced by the addition of FRNZ: Rachel Fuller on alto sax, clarinet and electronic wind instrument; Jay Havelaar on trumpet and flugelhorn and Rick Husband on guitar
Jay and Rachel will be delivering a blistering rendition of Freddie Hubbard's "The Intrepid Fox" as well as a couple of burning BeBop tunes including Clifford Brown's "Joyspring". Jay will also enthrall you with his interpretation of the introduction to Chick Corea's "Spain" and Rachel is bound to entrance you with her electronic wind instrument rendition of Herbie Hancock's "Tell Me a Bedtime Story" Well respected guitarist Rick Husband will be adding his own special style to the evening and is sure to amaze all of us with his sensitive comping skills and his strong soloing ability. Rick will be adding significantly to the energy needed to perform tunes such as Chick Corea's "Senor Mouse," and "Armando's Rhumba"
.DMN&FRNZ are always eager to perform original music and this coming Thursday is no exception with performances of Don MacKay's "Galleon" and "Soon Now"
On piano, Michael Eddy maintains a solid sensitive approach to accompaniment as well as performing some incredibly fiery solos. Michael will also be sure to bring a tear to your eye with his sensitive rendition of "Some Other Time" Holding it all together on bass and drums, Don MacKay and Neil Clark are totally in the groove with dynamics and tempos locked right in. Neil's drum solos are a fiesta of raw energy and creative rhythms while Don's solo contributions challenge the limits of traditional bass playing. Originally conceived to be a bit unique, DMN&FRNZ promise an evening that is bound to be beyond the ordinary.
Treat yourself to an evening of fabulous music, great food, good company and spirited drinks, all in the warm, club-like atmosphere of the Avalanche Bar and Grill on 8th in Courtenay. Cover charge is $10.00 for members and $12.00 for non-members. As these events are becoming more and more popular it is wise to come early if you wish a good seat. For more information about the jazz society, peruse our website or follow us on Facebook.