December 3rd - 530 p.m. - AGM
730 p.m. -Jeff A and Trombones
After last week's performance by Montreal-based Elizabeth Shepherd, Georgia Straight Jazz Society presents a new quintet, comprising a combination of established, favourite local musicians with a newly settled former professional artist. The blending of local and internationally-known performers; the infusion of new talent into our jazz community, combined with an avid community of jazz aficionados, is largely responsible for Comox Valley's evolution into the most amazing jazz scene in British Columbia.
The dynamic trombone duo of Jeff Agopsowicz and Paul Nuez blows into the Georgia Strait Jazz Society for an evening they call Trombone Reflections.
As Jeff mentioned in a recent interview, "The trombone duo is backed up in next Thursday's Jazz at The Avalanche Bar with Kelly Thomas' skillful expertise on piano and vocals, Bill Street's groovy swinging style on drums and James Lithgow's steady tones on the bass fiddle."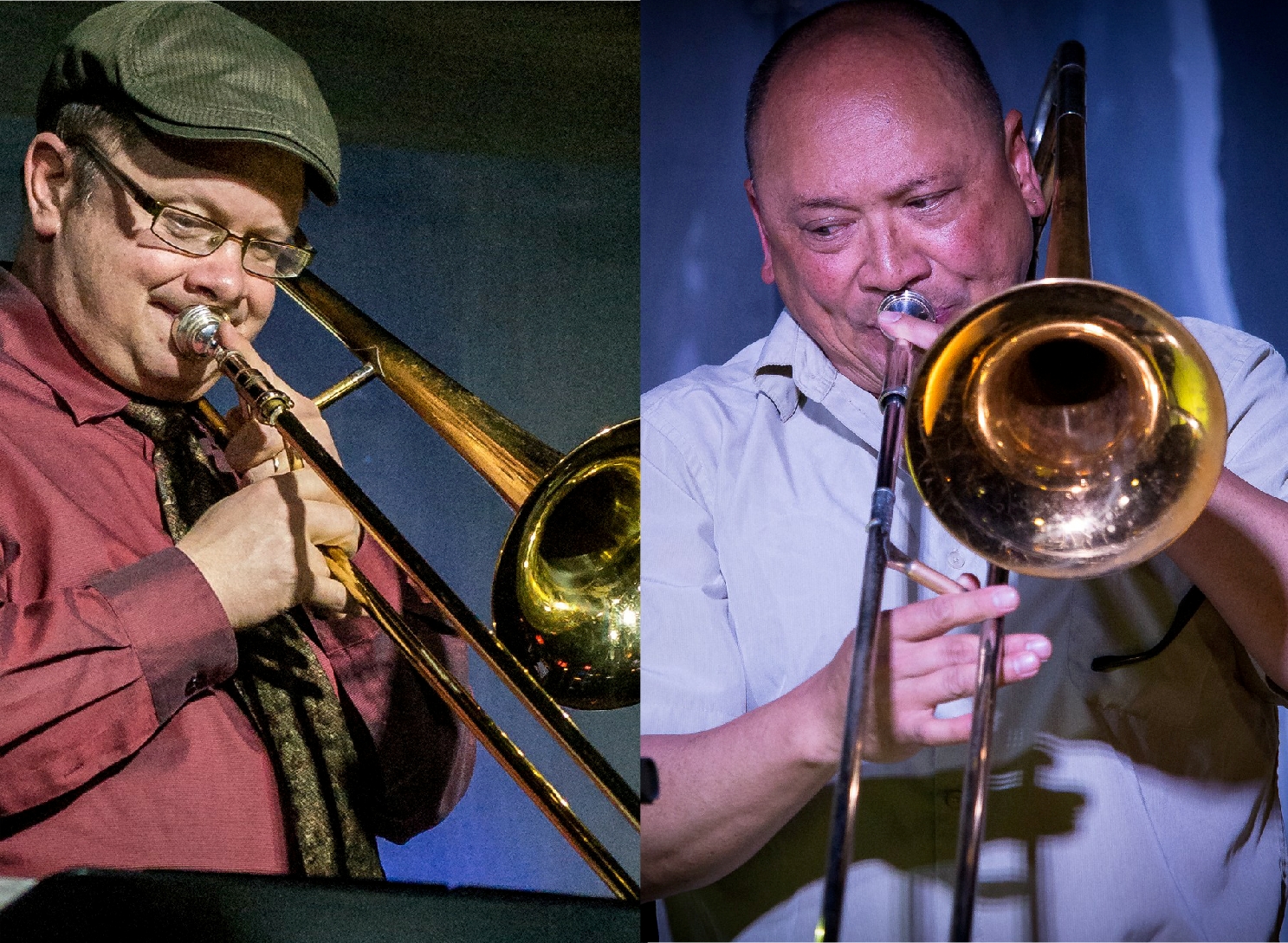 Having played in various bands and musical groups, Paul Nuez is a familiar trombone presence to many in the Comox Valley. He began his musical journey playing the trombone during junior high days in Calgary with lessons from Hugh McPherson. Nuez went on to play with the Calgary Youth Orchestra, later enroling in the Grant McEwan College's jazz program where he took sessions with the great Bob Stroup. Paul has shared the stage with many of Vancouver Island's great jazz artists including (the late) Colin Campbell, Phil Dwyer, and Ian MacDougal.
Jeff Agopsowicz has become a musical force in the valley since settling in Courtenay in September 2014. He was introduced to the trombone back in high school band and hasn't spent much time without playing the instrument since then. In April 2014 Jeff retired from military life, having spent 25 years as a veteran performer in The Canadian Forces Band Trade playing in concert bands as a soloist, and in multiple smaller group instrumental ensembles. He's also worked as a show band member on several cruise ships of the Celebrity Cruise Line.
Paul and Jeff were introduced years ago thanks to a mutual friend and, now that they are both located in the valley, it's a growing partnership that has only served to encourage the individual skills they each bring to the duo. Paul and Jeff are passionate trombone players that can often be found practicing together any chance they get on Paul's days off work.
Paul added, "The band performance will feature inspiration and arrangements from Jay and Kai, the famous performing and often recorded trombone duet pair. Jeff and I are both avid jazz lovers and we'll also be playing Jeff's beautiful arrangement renditions of several familiar jazz classics during our performance. This performance promises a musical treat for all who enjoy the smooth sounds of trombone harmonies."
Paul and Jeff are especially hoping aspiring trombone players of all ages will be a part of the audience.
Smooth music for a winter's night. What could be better? Accompanied by a friendly atmosphere, good food and a warm welcome if you're new to the jazz scene. Discover for yourself why we have become BC's hot spot for jazz music. Showtime is 7:30 pm. Admission is $10 for members, and $12 for non-members. For more information about the Jazz Society's activities, a schedule of forthcoming performances browse the rest of our website or look out for and like us on Facebook.