January 28th at 7:30 pm - Nico Rhodes Trio
The trio combines considerable individual talents, communicative abilities, and diverse musical sensibilities to take audiences on a unique auditory adventure. Join pianist Nico Rhodes, bassist Sean Drabitt, and drummer James McRae for a highly entertaining evening of jazz re-imaginings of great piano works, creative arrangements of jazz standards, and intriguing original compositions inspired by, and drawing on, the music of a potpourri of legendary music greats including Ahmad Jamal, Frederic Chopin, Oscar Peterson, Claude Debussy, Art Tatum, Johann Sebastian Bach, Scott Joplin, and Gordon Lightfoot.
By his mid-twenties, pianist, woodwind player, composer, arranger, symphony orchestrator, conductor, studio musician, film composer, and music director Nico Rhodes had already drawn notice in a broad range of musical endeavours. A multiple award-winning musician, who began classical piano studies at a very young age, eventually added saxophones and clarinet to his instrumental repertoire, Nico's highly eclectic piano playing style draws on a broad array of musical influences. Known for his technical virtuosity and responsive touch, Rhode's playing has been described as both "acrobatic," and "heart-breakingly sensitive". Ever seeking new sources of inspiration and creativity, he is currently working on a variety of piano compositions, musicals, and symphonic works, in addition to directing musicals.
Twenty-five years ago Sean Drabitt left Victoria to study jazz bass in Los Angeles with mentor John Clayton. The following decade saw him living and playing in New Orleans, where he worked with all the Marsalis family members, and then New York, working with some of the best young players on the modern jazz scene - Kurt Rosenwinkel, Mark Turner, Eric Harland, and Ari Hoenig among them. Specializing in a hard-driving, hard bop informed style of playing, he eventually returned to Victoria where he now divides his time between projects on both acoustic and electric bass. Career highlights in recent years have included a western Canada tour as a member of New York trumpet luminary Terrell Stafford's quintet, and doing a number of trio gigs with Portland pianist George Colligan.
Veteran drummer, bandleader, session musician, and songwriter/arranger James McRae has performed or toured since the early 1980's with a variety of jazz, Latin, Caribbean, New Orleans, funk, pop, country, and rock bands. He has played with numerous musicians over the years including Colin James, Miles Black, Ellis Marsalis, David Vest, Jennifer Scott, Rene Worst, Ross Taggart, Mike Allen, Ken Lister, Scott White, Marc Atkinson, Connor Stewart, and James Darling. He's also played for a number of theatrical productions, including Chemainus Theatre's attendance record shattering "Twist and Shout," and has produced well-received tributes to Horace Silver, Carlos Jobim, Jimmy McHugh, and Jimmie Smith. McRae is an in-demand private teacher, and mentor to a number of outstanding young musicians.
Show time is 7:30 pm. Admission is $10 for members and $12 for non-members. Dinner specials and regular pub food will be available before and during the show. For more information about forthcoming shows, follow us on Facebook or browse this website or check for press information in the Comox Valley Record.
GSJS is committed to keeping jazz live, and allowing Comox Valley music lovers an opportunity to expose themselves local, regional and internationally-known jazz musicians.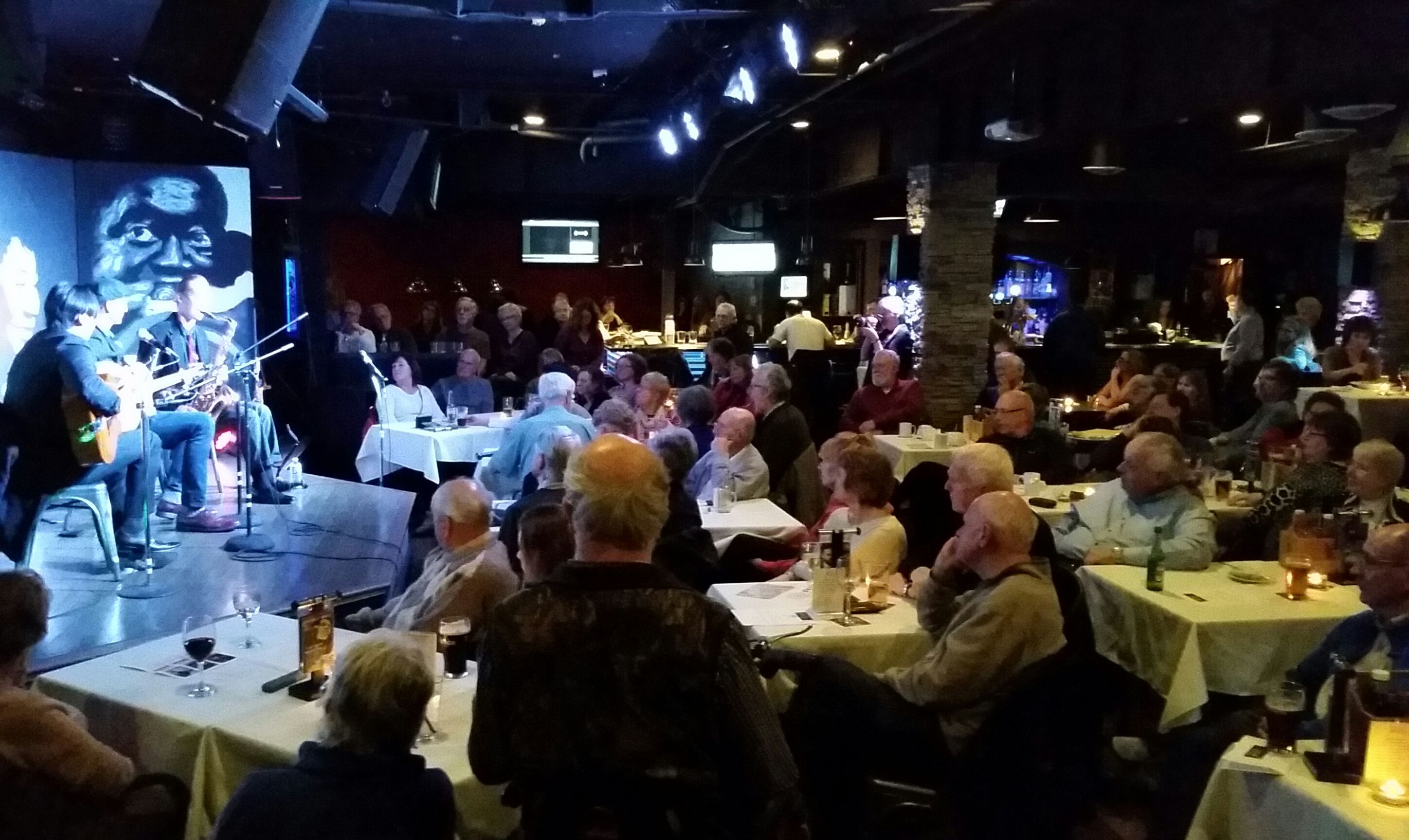 Become a GSJS Member
Follow us on
Reduced ticket prices for GSJS-sponsored events
Newsletter updates on the jazz scene
A chance to influence the music and arts in your area!
Belonging to an organization of like minded people with a great social network
$5 Student; $15 single; $25 family; $100 group or corporate
Join on line using PayPal's secure payment system:
Or use this print-and-mail membership form
Corporate Sponsors

Berwick Comox Valley
1700 Comox Ave.
Comox BC
250-339-1690
berwickrc.com
Comox Valley Echo Newspaper
407D 5th Street, Courtenay
250-334-4722
www2.canada.com/comoxvalleyecho
Comox Valley Record Newsaper
765 McPhee Ave, Courtenay
250-338-5811
comoxvalleyrecord.com
Bop City Records
CDs, tapes and LPs
211 Simms Street
Courtenay B.C.
250-338-6621
Bop City Records
Motif Music Studios
2384 B Rosewall Cres. Courtenay, BC
motifmusicstudios.com
Red Carpet
268 Anderton Road, Comox, BC
250-339-0012