April 7th at 7:30 pm - Mike Irving Quintet
Admission is $10 for society members, $12 for non-members.
After several weeks of contemporary jazz from 2016 JUNO nominated acts from Ontario and Quebec, the Georgia Straight Jazz Society Thursday Night Jazz Season returns to Vancouver Island-based music this coming Thursday at The Avalanche Bar, when the Mike Irving Quintet takes the stage at 7:30 pm. In contrast to the last few weeks, the word for this show is SOUL.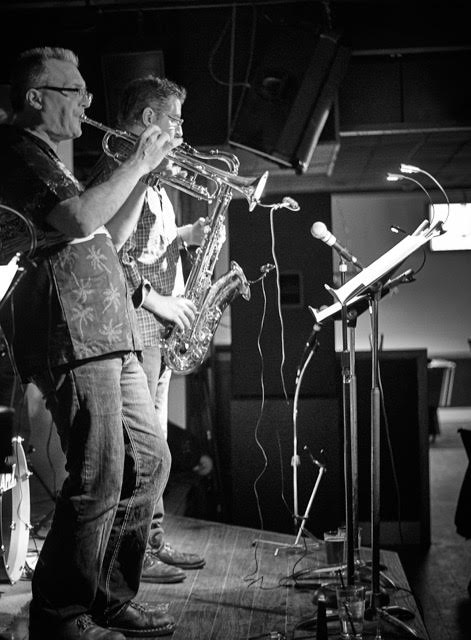 Michael's quintet has become an annual popular performance in Courtenay, and we're once again looking forward to listening to his distinctive style and the technical precision his band always delivers. Although Mike is the Music Director at Dover Bay Secondary School in Nanaimo, he is better known to jazz fans in this area as the lead trumpet for the Arrowsmith Big Band and the Nanaimo Musicians' Association Big Band (NMA).
His quintet on April 7 features veteran sax man Dan Craven on tenor saxophone, and a musical interplay that's based on a 30 year friendship that goes back to university when Michael and Dan both studied with jazz great Ian McDougall. Rounding out the quintet is NMA Big Band rhythm section, Jesse Marshall on guitar, Darin Nicolle on bass, and Graham Villette on drums.
The quintet will be performing the music of Blue Mitchell, Lee Morgan, Freddie Hubbard, Joe Henderson, Horace Silver, Paquito D'Rivera and some original music by Michael Irving and Darin Nicolle. So if you love your jazz with a big drop of soul, this is the night you're going to love!
Food is served before and during the show, so this is a wonderful way to enjoy an affordable evening out with your favourite person, listen to great music, and start your weekend a day early. Adult accompanied teenagers are welcome (encouraged) to attend our shows, since The Avalanche changed its licence. For more information about the Jazz Society's activities, browse the website or find us on Facebook.
GSJS is committed to keeping jazz live, and allowing Comox Valley music lovers an opportunity to expose themselves local, regional and internationally-known jazz musicians.