April 28th at 7:30 pm - Bill Coon Trio
Admission is $10 for society members, $12 for non-members.
Following last week's wonderful big band concert, Thursday night jazz at The Avalanche returns to the other extreme with a special concert presented by Bill Coon.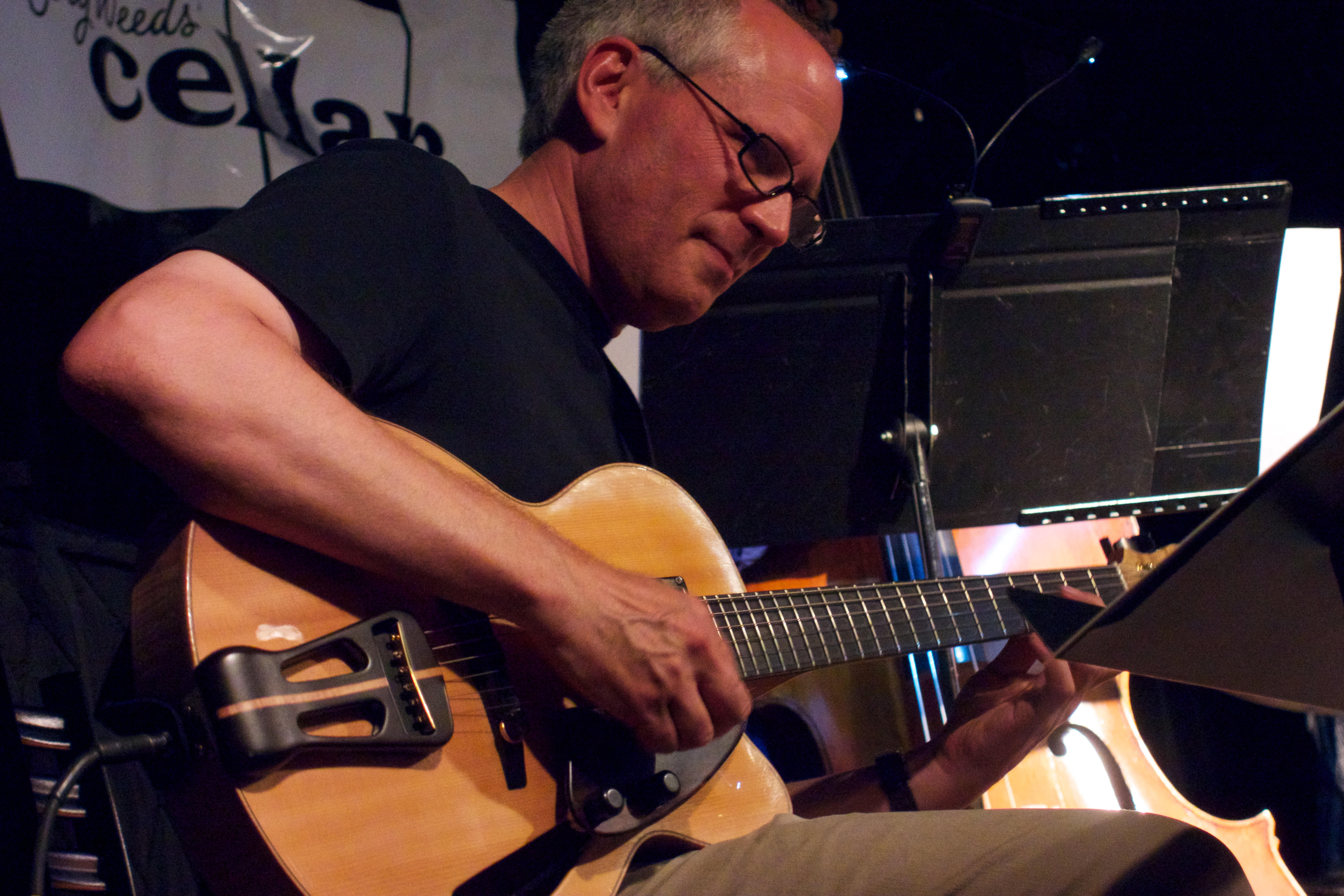 Bill is accompanied by local musicians Aaron Amar on drums and John Hyde on bass. As jazz fans in Canada know, Coon is a Juno nominated guitarist/ composer /arranger and one of Canada's most highly respected and sought after musicians. He has been performing professionally for over twenty-five years and has worked with many of today's greatest jazz artisits. His quartet performed at the Orpheum, opening for Dave Brubeck during the Vancouver International Jazz Festival.
He is a member of the Jill Townsend Big Band, Wow Jazz Orchestra and the Brazilian Choro group Gostosinho. Bill released the critically acclaimed CD, Speakeasy with his quartet featuring Juno award winners Ross Taggart and Dave Robbins and more recently teamed up with legendary guitarist Oliver Gannon on a Cellar Live release entitled Two Much Guitar.
Bill's performing and writing has been documented on over two-dozen CDs to date, while big bands and orchestras throughout the world have performed his arrangements. Among them, the National Arts Centre Orchestra, the Norwegian Radio Orchestra, the VSO, the Woody Herman Jazz Band, the CBC Radio Orchestra, the Dal Richards Orchestra and John Korsrud's Hard Rubber Orchestra.
His sixteen year musical partnership with internationally renowned jazz vocalist Denzal Sinclaire has produced several recordings including Mona LIsa, the Juno nominated CD I Found Love, as well as television specials, radio shows and performances at all major jazz festivals in Canada. He composed dozens of arrangements for the singer in different musical settings that included string quartet, large and small jazz ensembles and symphony orchestra. More recently he has conducted and performed with the 23-piece Bill Coon Orchestra featuring Sinclaire in a musical tribute to Nat King Cole.
Coon has been commissioned (with funding from the BC Arts Council) to compose a four-movement suite for the Jill Townsend Big Band, which was premiered in 2004 at the East Vancouver Cultural Centre. Thanks to the Socan Foundation, Bill has been artist in residence with the Altsys Jazz Orchestra and has appeared with them in 2005 as part of Montreal's Off Festival.
His recent association with popular hip-hop artist K-os has resulted in several string recording projects including a collaboration with the Vancouver CBC Radio Orchestra. The process of creating and recording the six-minute piece resulted in a CBC television documentary entitled Burning to Shine and Bill's arranging is featured on the Juno award winning CD Joyful Rebellion.
Bill has received several Canada Council Arts Awards enabling him to study improvisation and composition with legendary guitarist Jim Hall and has traveled to Dublin, Ireland in order to study guitar and with renowned jazz guitarist, Dr. Louis Stewart.
In addition to a busy performance and recording schedule, Bill is in high demand as an educator. He is an adjudicator and clinician at music festivals and workshops throughout Canada and presently teaches jazz guitar and composition at Capilano College in North Vancouver.
To see this great show, arrive with lots of time before the 7:30 pm downbeat. Admission is $10 for Society members, $12 for non-members. Meals will be served before and during the performance, so consider making it a wonderful evening out with your special someone, in a lounge atmosphere filled with smooth jazz guitar music. For further information about the Jazz Society and its forthcoming events browse this website or check us out and like us on Facebook.
GSJS showcases jazz live in the Comox Valley, giving music lovers an opportunity to enjoys local, regional and internationally-known jazz musicians.