May 5th at 7:30pm - Deja Blue
Admission is $10 for society members, $12 for non-members.
With only four weeks remaining in the 2015-16 performance year, Georgia Straight Jazz Society is pleased to present one of our region's finest jazz ensembles with the return of Deja Blue to the stage at the Avalanche Bar and Grill in Courtenay this Thursday.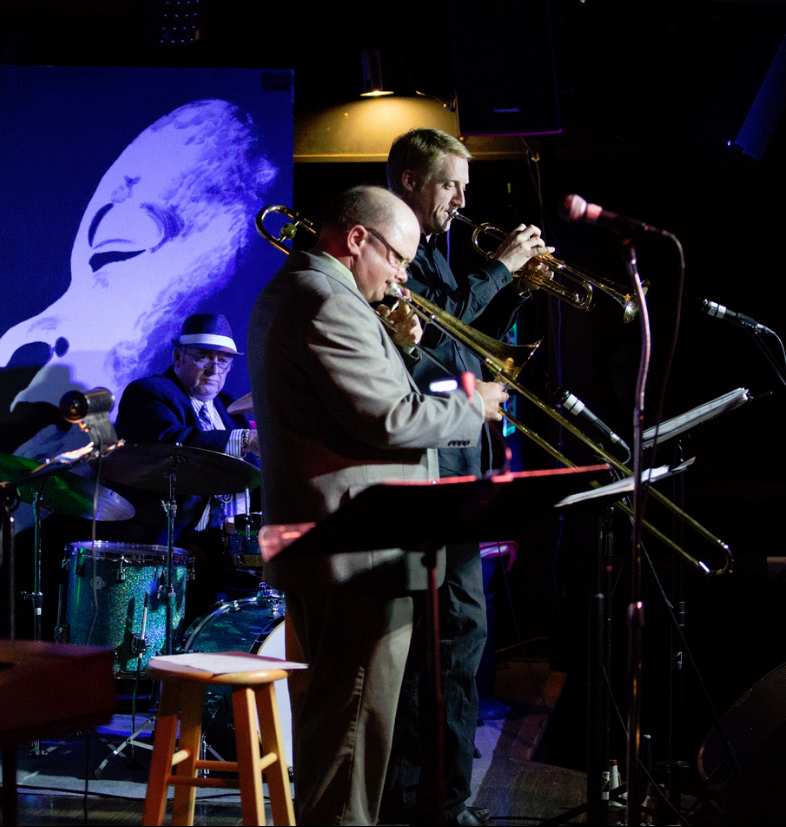 Deja Blue was formed and created by drummer Bill Street back in Puerto Vallarta, Mexico in 2006. When unexpectedly hired by the Blue Martini bar and Grill in PV, Bill was asked for a band name, and as Bill told me in a recent conversation, "The name Deja Blue flashed into my mind, and suddenly we were working six nights a week!"
Following that, the band worked five seasons in Mexico in Puerto Vallarta and Bucerias; several seasons were accompanied by the wonderful singer Armi Grano, who became a favourite with the Jazz Society here in Comox when she flew in to do a summer concert at The Gardens on Anderton two years ago.
This week the band (sadly without Armi) will feature familiar faces and favourite musicians: Mike Eddy on keys, refreshed from a month in Palm Springs; on acoustic bass the man from the woods of Black Creek, James Lithgow, with whom Bill has worked for more than 25 years. The front line comprises two superb musicians: Jeff Agopsowicz, a trombonist of great repute and a player of enormous experience across Canada and beyond, and on trumpet the wonderful Jay Havelaar whose style and capabilities bring Chet Baker and Miles Davis to mind as soon as he plays the first note.
Thursday's concert will feature swinging jazz sounds from the fifties and sixties; lots of melody and tunes that both swing and bring back a very memorable era that sounds as fresh today as it was back then. If you're new to jazz, this will be a great night to expose your ears to comfortable, melodic music with clear improvisations, and discover why jazz has experienced a renaissance in the Comox Valley. Come and join our faithful audience for two and a half hours of great jazz. Show time is 7:30 pm.
For more information about the Georgia Straight Jazz Society, you're invited to browse the website or find us on Facebook.
GSJS showcases jazz live in the Comox Valley, giving music lovers an opportunity to enjoys local, regional and internationally-known jazz musicians.