CANCELLED DUE TO WEATHER
February 9th at 7:30pm
Jenn Forsland
Members $10 - non members $12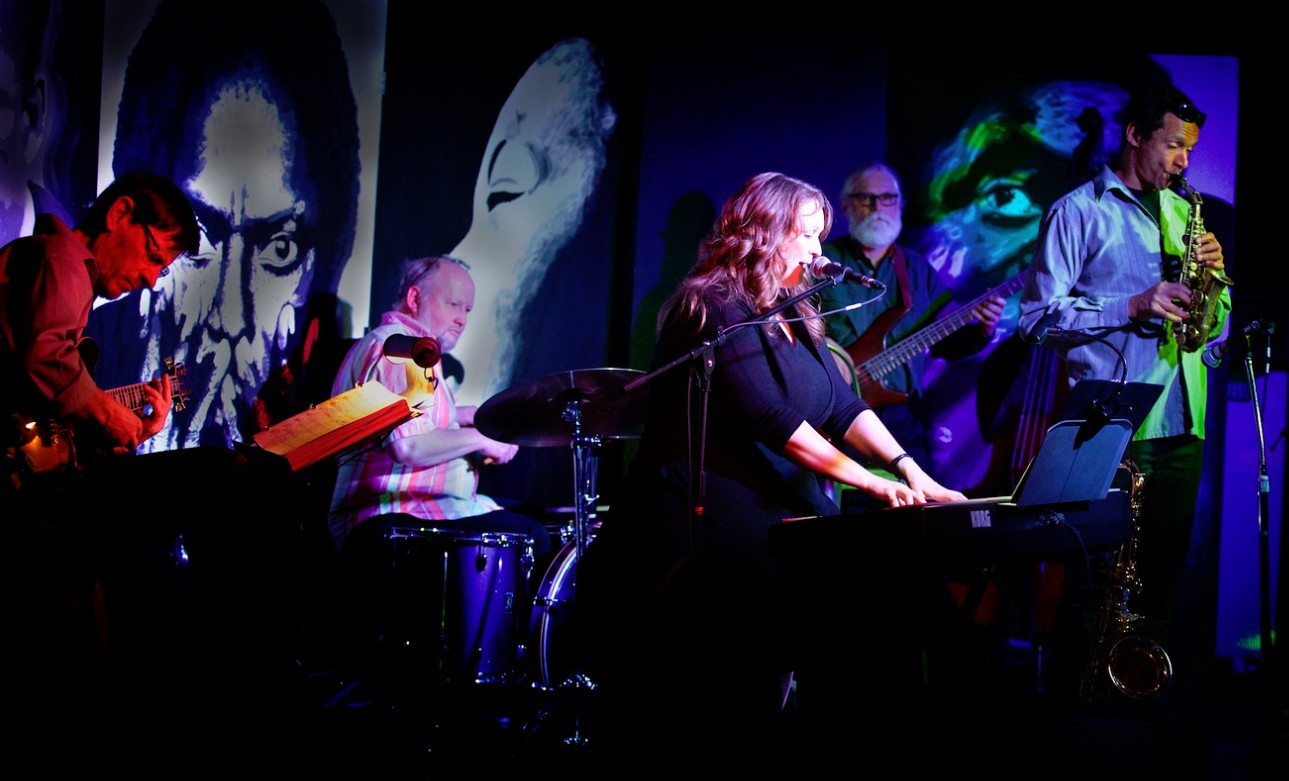 It's been two years since The Jenn Forsland Group graced our stage. Now, by popular demand, she returns to charm, and flirt with her audience. As many of you know, Jenn, in addition to being a superb jazz songstress, is a wonderful entertainer and accomplished pianist who laces her material with anecdotes and a stage presence second to none.
In today's telephone interview, Jenn told me, "Each time I contemplate a show for Georgia Straight Jazz Society, I always try to plan something new - even at the risk of leaving my comfort zone; the audience is always discerning and attentive, and that adds to the challenge which in turn drives up the calibre of our performance. Well, this time my show will feature familiar melodies and well-known standards, with a focus on the Great American Songbook. For me, it is like going full circle, back to my early performance days, but doing so in a much more critical context. This is no longer playing music in the background with an indifferent audience. Today people really concentrate on the quality of performance, and that's great.
"Offering an evening of classic songs may come as a surprise to those folks who know my work and have seen it develop over the past seven years, but this show will focus on technical excellence between a group of musicians who are well versed in playing together as they return to tried, true jazz numbers. Of course, I will include one or two of my perennial favourites, including 'Love for Sale' and 'Nature Boy' but you can expect an evening filled with familiar romantic tunes dating from the 30s through to the turn of the millennium."
In addition to Jenn, vocals and keyboard, you will experience some of the Valley's finest instrumentalists: Rick Husband, guitar; Tom Tinsley, percussion; Graeme Edwards, bass, and Tony Morrison, Tenor Sax. These musicians are all well known, and well versed in creating the smooth accompaniment to Jenn's style, with years of refining a blend of sounds which is enviable. As Jenn added, "These guys are so talented, and we always have so much fun - whether we're rehearsing or on stage. They're the best!"
Jenn's shows are always popular and well attended, so plan on arriving a bit earlier than usual if you're expecting to meet and sit with friends. Dinner specials will be available as usual.
At the time this press release was prepared, there were still a few tickets for Connor Stewart & the Bon Temps' March 23rd concert remaining for sale at Bop City and Red Carpet. The Jazz Society has completely sold out.
Please browse the Calendar page of the website to see the full line-up of acts between now and the end of May to discover the amazing range of performances you can experience without leaving the Comox Valley. We really have become a jazz destination for many out-of-town artists, and you have the opportunity to expose yourself to live jazz on a weekly basis. You'll be glad you did.
Look for and like us on Facebook.
GSJS showcases jazz live in the Comox Valley, giving music lovers an opportunity to enjoys local, regional and internationally-known jazz musicians.