April 20th 2017 at 7:30pm
Latin and Afro-cuban Music
Pablo Cardenas with Kelby MacNayr
Members $10 - non members $12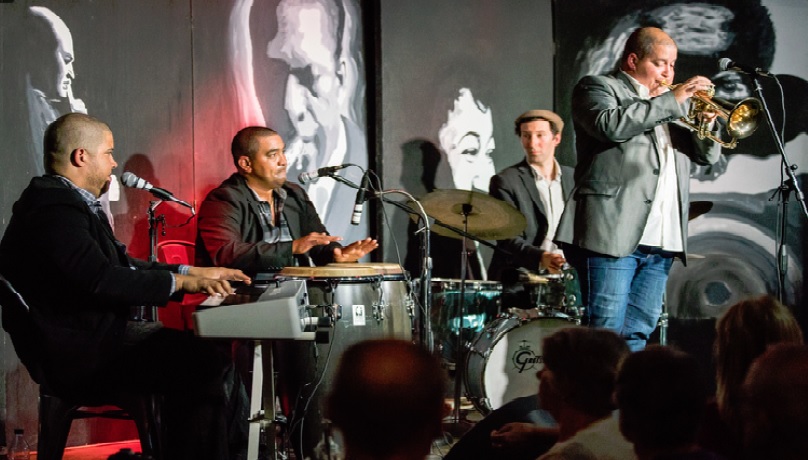 "The West Coast Afro-Cubans" is a project formed by Cuban pianist and composer Pablo Cardenas, one of the most experienced musicians in the Latin scene of BC, with the purpose of keeping alive the Latin and Afro-cuban music roots with a fresh sound, high energy and mixing it with jazz and other influences in a modern concept. The high technical quality and experience of these musicians including director and pianist Pablo Cardenas makes their shows the best. Since their debut in 2011 at a sold-out show at Victoria Event Center, The West Coast Afro-Cubans has been performing at the best venues with more followers each time.
Pablo Luis Cardenas is one of the best Cuban pianists of his generation. His versatility and high technical preparation make his music rich and full of different influences from Afro-Cuban, Latin Jazz to Fusion, Jazz, Classical. He studied classical and Jazz at the National Schools of Arts and the Superior Institute of Arts of Havana, Cuba. In 2005 he created in Havana the Pablo Cardenas Latin Jazz Quartet and has performed in different important festivals in Cuba, such as the Havana International Jazz Plaza Festival, Havana International Contemporary Music Festival and many more. He has also performed throughout different countries including Mexico, Spain and Dominican Republic. In 2010 he started a new project called The Coast Afro-Cubans performing at many venues and festivals, including CBC radio, Vancouver International Jazz Festival, Vancouver Cuban Music Festival, Roots and Blues Festival and many more. Pablo Cardenas has collaborated with world class musicians such as Alexis Baro, Ana Velinova, Adonis Puentes, Maureen Washington and many more.
Peter Dowse is a bass player born in the UK. Peter spent a significant part of his working life in New York City and did most of his studio recordings in Rhythm & Blues and jazz working with great artists such as Omar Hakim. Peter went on to work as a record producer and performer and shared the stage with Smokey Robinson and The Four Tops. Peter then relocated Montreal, Quebec and more recently to Victoria and has since been working with Pablo on all his musical projects.
Hector Ramos is a master conga player from Cienfuegos, Cuba who graduated from the National Academy of Music in Havana. He moved to Canada five years ago and now makes his home in Victoria. Hector has played professionally in Cuba for over 10 years exploring all styles of Latin Jazz and Afro-Cuban Folklore through different groups. Hector now plays with Pablo Cardenas and The West Coast Afro-Cubana and has previously performed with the legendary Ganga Giri from Australia on his 2012 tour.
Miguelito Valdes began studying music in Cuba, his country of birth, at the age of 11 while attending the Elementary School of Music "Paulita Concepcion". He completed his studies at the Provincial School of Music "Amadeo Roldan" at age of 19. His first professional experience was with the group "Jelengue" in 1992. Since then, he has performed with many of Cuba's top performers, including the Cabaret Tropicana Orquestra, Giraldo Piloto & Klimax, Pablo Milanes, Haila Mompie, Chucho Valdes, Havana Ensemble, Augusto Enriquez and Mayito Rivera. Miguelito participated in the award-winning recording "La Rumba Soy Yo", which won a Latin Grammy in 2001. In 2000, he began playing with Omara Portuondo (Diva of Buena Vista Social Club) with whom he toured the world for 6 years.
Finally, drummer Kelby MacNayr needs no new introduction to Jazz Society folk; he inspired the most attended GSJS show ever about a year ago.
This will be a well attended show, so plan on arriving early if you're hoping for the best seats, and if you arrive closer to show time, don't be surprised if it isn't standing room only.
Please browse the Calendar page of the website to see the amazing remaining 5 acts in the 2016-2017 calendar. The end of the 2017 season is almost fully booked and we are building the 2018 season.
Look for and like us on Facebook.
GSJS showcases jazz live in the Comox Valley, giving music lovers an opportunity to enjoys local, regional and internationally-known jazz musicians.