May 18th 2017 at 7:30pm
Kelby MacNayr
Members $10 - non members $12
Following last week's fabulous show by Jennifer Hodge and her wonderful cast, we head into our penultimate show as we approach the end of the oh-so-successful 2016-17 performance year. Thirty eight shows in eight months, featuring local, regional and international artists who have enhanced our reputation for becoming BC's premier live jazz performance venue. Add to that this season's significant upgrading of the sound system and stage lighting, and you've got the formula for continuing success.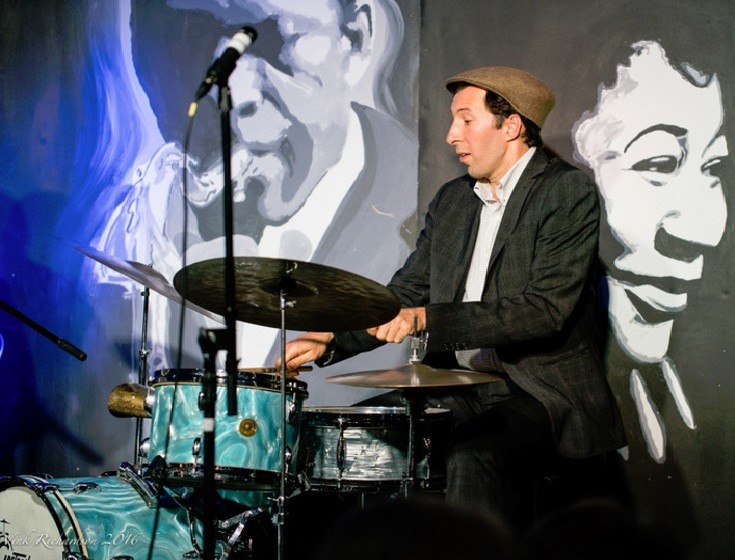 Band-leader and composer Kelby MacNayr brings together an ALL-STAR quintet in a special project exploring the swinging, elegance sass and groove of Cannonball Adderley, Ray Brown and Duke Ellington! Featuring five of the West Coast's TOP performers - in a brand new quintet setting! The band features Miguelito Valdes - trumpet; Ryan Oliver - sax; Tony Genge - piano; John Lee - bass, and Kelby MacNayr - drums. With this line-up, you're guaranteed an absolutely memorable performance.
For the best seats, be there a little earlier because this will be a well attended event. Regular menu items and the special Greek dinner will also be available, so consider making it a really affordable special night out.
Showtime is 7:30 pm at The Avalanche Bar and Grill. Admission is $10 for members, $12 for non members.
For more information about the wonderful line-up of performers for the 2017-18 performance year (already more than 70% booked), peruse the website. You can also find us, and like us on Facebook. Courtenay has earned its live jazz reputation thanks to the solid support of several hundred members and about 25 committed volunteers, as well as the demand by fine artists for the opportunity to perform before a discriminating audience, where the focus is on great jazz. If you're new to Comox Valley, please come down and introduce yourself to the friendly folk who frequent Thursday night jazz. You'll be glad you did!
GSJS showcases jazz live in the Comox Valley, giving music lovers an opportunity to enjoys local, regional and internationally-known jazz musicians.