October 19th 2017 at 7:30pm
Monik Nordine Trio
Members $10 - non members $12
This Thursday, October 19, features one of this country's great women jazz saxophonists, when Monik Nordine leads her trio in her 7:30pm concert. Georgia Straight Jazz Society is privileged to feature Monik in her own name; although she has been featured on our stage in other bands during the past five years, this is the first appearance at Thursday Night Jazz with her own line-up.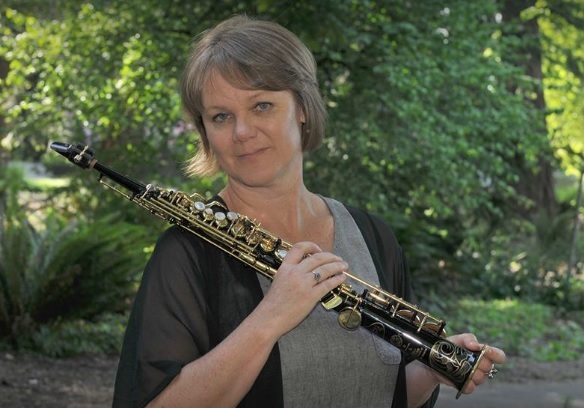 Nordine's music will feature compositions from her recent album The Old New Town, in dedication to the Montreal based composer Jan Jarczyk, highlighting a writing approach that is thoughtful and lyrical. The concert will include a nod to the American Songbook with songs based on standards such as "All the Things You Are" by Jerome Kern and "I Fall In Love Too Easily" by Jule Styne. The track "Yin and Yang", is a suite in the style of John Coltrane based simultaneously on a Hindu hymn and the Gil Evans composition "La Nevada". As one of our top soprano and alto jazz saxophonists, Nordine has a powerful, lyrical, and impressive command of the saxophone. She has received several prestigious arts awards and she performed on the JUNO nominated Cruel Yet Fair, with the Hard Rubber Orchestra.
In 2010 Nordine recorded a self-titled jazz album with her group Departure that charted in the top five on CHLY 101.7 FM's pop charts and her discography includes an exceptional debut album from 1997 entitled, Not just to But Over the Moon, showing her compositional and arranging prowess.
Monik has shared the stage with award-winning musicians Hugh Fraser, Campbell Ryga, Michael Buble, Rob McConnell, Tommy Banks, Brad Turner and many other high-profile artists. She has toured Canada widely, performing in the Montreal, Regina, Calgary, Vancouver, Victoria, and Medicine Hat jazz festivals. She has also toured with Canadian greats Pat Coleman and Mike Allen, not to mention Hugh Fraser's VEJI.
Monik will be accompanied by Bruce Miekle on bass, and Tony Genge, piano.
Genge has performed with many leading Canadian and international jazz artists and can be heard on the critically acclaimed jazz piano trio CD, "Blues Walk", available from Roadhouse Records. His playing, writings and arranging can also be heard on recordings by Joe Coughlin and Paul Horn. Dr. Genge taught jazz piano at St. Francois Xavier University from 1989 until 2016.
Please browse our website to see the full calendar of performers booked between now and the end of May 2018. Better still, make Thursday Night Jazz a regular part of your weekly schedule. You will be glad you did!
GSJS showcases jazz live in the Comox Valley, giving music lovers an opportunity to enjoys local, regional and internationally-known jazz musicians.